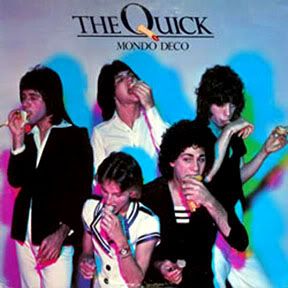 THE QUICK "MONDO DECO" LP / (CD version available soon)
RHB-108


RADIO HEARTBEAT RECORDS announces the long awaited vinyl re-issue of THE QUICK's seminal MONDO DECO LP. Faithfully mastered from the original master tapes, Mondo Deco comes packaged with the original cover art and printed inner dust sleeve featuring a layout of rare photos and liner notes by Danny Benair.


As QUICK fans are well aware, this album represents, along with the Milk N' Cookies S/T LP, the apex of glitter rock in the States. It's take on the ornate glam impulses of Sparks is rendered unique by the Quick's unaltering attention to the integrity of the pop song and executed with an edginess that had The Quick as a fixture in the burgeoning LA punk scene. The result is stunning in its originality; a pure pop delight. The Quick's re-working of Lennon / McCartney's "It Won't Be Long" and Bob Gaudio's "Rag Doll" make them not only intensely original covers but outright statements of the band's aesthetic as they seamlessly merge with original compositions such as "No No Girl", "Hilary", "Hi-Lo" and the storming drum and guitar crossfire of "Anybody." All find a unique balance in their blend of glittergum and orchestral pop and explode as so many nursery rhymes snarled through a prism of all-american teenage angst.


Shadowed over a bit at the time, due mainly to promotional attention being squarely focused on the earning potential of labelmates, The Runaways, Mondo Deco is that one of a kind record that will glitter brighter and brighter as years go by as the truly seminal pop album that it is. As more people hear. It won't be long.